How's many days i didn't update my blog?
i think is around 5 days,hmpp..it's,haha..
I'm so happy now coz i just pass up my CGPP first asignmnet!!!!
hehe
This assignment almost make all my classmates and friends fainted
ESPECIALLY ME.. coz i'm a photoshop noob! or maybe computer noob?
My illustration(cg1) got D,yea is DONKEY.but no one trust at me..
it's hurt
ppl said they're noob in computer stuff also..but they at least got B.
LORRR...if you call yourself computer noob,then how about me?
hmpp,it's a bit out of topic now..haha,so come back!!!
i"m still can show you all my CGPP assignment,may not that good..
But i already put all the effort i can..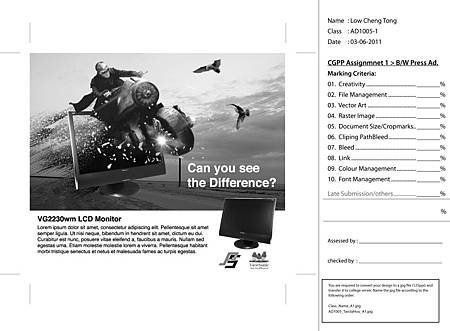 it's a 3d tv advertising..Can you see the difference?
I remember last week thursday i only slept around one hour,coz the next day(last friday) we have to show our assignment to lecture.
and last friday i don't have enough time to eat breakfast and lunch.
my (breakfast :biscuit + lunch :milo = SUPER HUNGRY)
What's the consequence only slept for one hour and don't eat properly? fever,flu and sore throat came.
sound like we have to pass up everything on the day right? but submission day is today. haha